First thank you Ellie and Oakley very much for sharing your experience from Go Go Bird with us.
Obviously Oakley enjoyed flying the bird, this is the moment we want to see the most, we are much glad to see the RC bird have brought funny to kids.
Now let's see what Go Go Bird has inspired Ellie's followers commented about this RC helicoptor toy Go Go Bird.
Check her whole video through https://www.facebook.com/watch/?v=791854508346564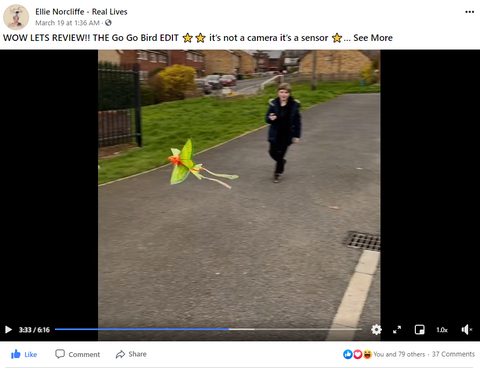 Debra Wright Platt: This is ace ! Never mind the grandkids I want one 😂 . I need to get one of these. 🥰 
Mandy Jane: I love it. It's great to see Oakley enjoying himself with it. 🤣❤️  It's like his treat when he gets home from school and also will keep you fit running around the park after it.
Sophie Maccoll: Omg my kids would love this birthday soon ahhh I need this
Kev Wilkes: It will Interest every Dog that can get to it before You do..
Lorraine Butterfield: It looks ace my 2 grandsons would love this.🥰 
Ok, at last we would like to share our $15 coupon code "GOGOBIRD15OFF " with you, get a RC bird drone for kids and parents and yourself, you deserved it.