Thank you Joseph very much for sharing Go Go Bird Eagle first version 1010 and we are appreciated we got so much interests from viewers. We just marked and recorded this as an important moment in the history of Go Go Bird Eagle.
Check the video below
Riff Raff's RC
Great video! That's the best flying ornothopter I think that I've ever seen! 😁👍
John Heitz
Oh how I want the eagle one! Bought a 4 foot eagle kite years ago!
Kevin Farley
Any idea what it might cost when it is available? Loved your review, looking...
---
Thank you Steve for sharing Go Go Bird Eagle on Youtube, it's a great journey for Eagle to known by more people who love it.
 And we have seen you done it, so many people show their love with great comments. We appreciate all your kindly welcomed thoughts on Go Go Bird Eagle.
Ron Davis
I couldn't stop laughing. Now we know how Eagles are endangered. Lol

mixchifius
not surprisingly, it is more durable than a DJI FPV drone LOL! Really funny video, thanks capt.

Sheila davis
Oh my god Steve my ribs and face...
---
Thank you Adam for sharing Go Go Bird Eagle with us on Youtube.
Go Go Bird Eagle got a fantastic informative full review. 
👉TLDR:👇
What is this?
This is the Hanvon GoGoBird Eagle. It's a radio controlled ornithopter, which means it has wings that flap like a bird to propel itself through the air. It comes as a Ready-To-Fly package, with minimal assembly required.
How much does it cost?
MSRP is $200 and should be available for purchase around September 2021.
Is it worth the price?
If you want an ornithopter, yes. This appears to be the most affordable and user-friendly ornithopter for its...
---
Congratulations, Go Go Bird Eagle launched on Kickstarter.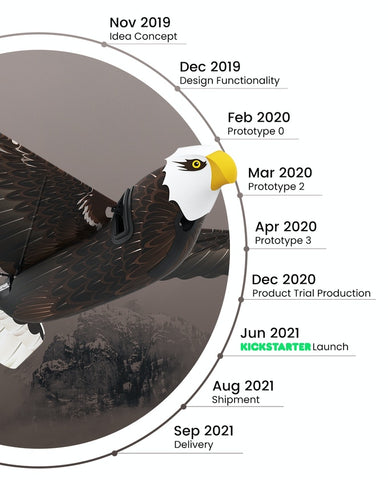 For more than 20 years, Hanvon have been researching bionic birds and finding the impressive sense of freedom of flying species. Go Go Bird uses a Hall Sensor System to control the frequency of its flapping wings, replicating the realism of bird wings and the sense of flying in the sky.
From 2019, based on the team's many years of engineering experience, we will break numerous technical barriers in wing-flapping aircraft and make a breakthrough from 0 to 1. By 2021, Go Go Bird...
---