To Go Go Bird lovers who are always interested in our featured mini flying gogobird toys.Today we just launched our Black Friday & Cyber Monday Flash Sale. Everyone can get 20% off discount for our any GO GO Bird toy in Purple, Blue, Yellow and Green using coupon code Facebook$10OFF to save $10. 
End time 11/30, hurry up, Gogobird fans.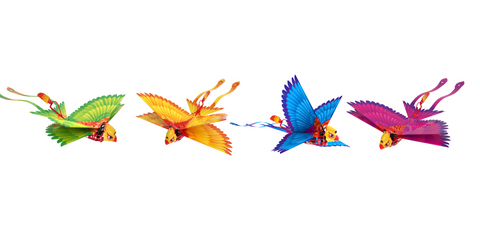 Get it and enjoy the funning with your kids, it absolutely will be the best Christmas gift. Let it make you and your kids' same dream, flying like a bird come true now. 
About Go Go Bird
With continuous innovation over years, integrating cutting-edge bionic flapping wings technology, intelligent sensing technology, artificial intelligence technology, Hanwang Technology officially launch the first smart bionic flapping wings robot product worldwide -  Go Go Bird.
Go Go Bird, a smart bionic flapping wings mini RC flying bird, is designed to nourish your flying dream and bring you the most surreal  remote-control flying experience.
Start from here, join us together, to the infinite and beyond.
Gogobird is warmly welcomed at both Hongkong Toy & Game 2020 and Kids Russia 2020 exhibitions. It should be more popular and many kids should have known it and had fun with it. But because the unexpected COVID-19 Gogobird met it's difficult period, Gogobird can only stay at warehouse like you stay at home because we must take care of our lives and be safe.
Though we still strongly believe Gogobird can bring fun to you and your kids in this special difficult 2020, if flying high in the sky free is not safe because we need take care of our lives firtly, we can still have fun flying Gogobird at home and backyard. 
Make the special difficult 2020 more wonderful and cherishable and funning with flying Gogobird. 
Check the wonderful GIF photos reviewed from our customers. Thank you for reviewing Gogobird at the difficult time. You see Gogobird flying fun can come from home and your backyard easily with kids. It's a great time for family union , so take action without hesitation.
More about Gogobird, take a quick photo view below for Gogobird exhibitions performace.
Referrring to media report please check https://markets.businessinsider.com/news/stocks/chinese-high-tech-company-hanvon-to-showcase-bionic-flapping-wings-flying-bird-at-kids-russia-2020-1028892356
We appreciate your support to us, any question please contact us at gogobird@hanwang.com.cn.
More about Gogobird check about us. Thank you.
Gogobird also has gotten Finalist Innovative Toy of 2021 at Toyawards.org, please check more details at https://toyawards.org/toyaward/custom/InnovativeToy.aspx