First thank you Mike for reviewing and done a giveaway for Go Go Bird.
So we can share the minds with the drone or RC helicoptor enthusiasts who would like to try Go Go Bird.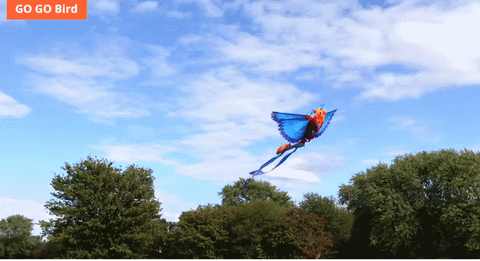 So now check Mike's review below:

So far, I've only flown mine in the house. It's fun once you get the hang of it, but since it flies like a real bird, it isn't anywhere near as responsive as when I fly my micro quads in the house. I will hopefully get out to the park to fly it this weekend. I can say this though - my 2 year old absolutely loves it. He chases it around and every time it crashes, he says "got it!" and fetches it for me. The only bad part is that he cries for about 10 minutes when the two battery packs it came with run out and we have to put it away. This actually forced me to get have to bring out a micro quad to appease him (until he got bored with that).

Safety - my two year old chased it around and knocked it out of the air several times. For the most part it seems pretty safe.

Durability - it feels pretty flimsy because it has to be to keep weight down, but I've probably ran it into things or crashed into the ground 30+ times. My kid has grabbed it by every part and squeezed it and even put his full weight on it once and so far it's still in good shape.

Ease of use - Indoors, it's tricky and you must be very active with the controls and anticipate your moves far ahead of time. Outdoors, I would assume that it is very easy to fly if you have a lot of open space. I was going to fly it in my yard, but it would likely end up in the neighbors yard in short order, so I think the park would be the most ideal place if you don't have a good amount of space.
Look more details at http://quadcopterforum.com/threads/go-go-bird-giveaway.25169/